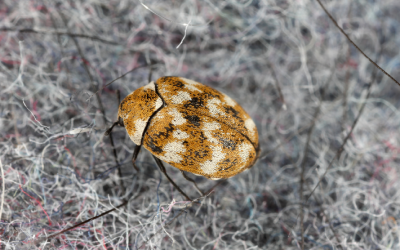 Within our busy lives, many people often don't take the time to inspect the intricate and detailed places within their homes on a daily basis. When you are in familiar surroundings like your living room or bedroom, you also may not notice little changes happening. During the warm summer months, you may even have your doors and windows open more, allowing pests to enter inside even if it's just for a second or two, and unfortunately, once they are inside there is a high potential for reproduction and damage to your home and your belongings. One such pest that can appear out of nowhere is the carpet beetle. 
What are Carpet Beetles?
Carpet beetles can be found in various sizes from 1-12mm. They have oval-shaped bodies with a scaly type of shell. Although these pests are not harmful or dangerous, they can cause significant damage to carpets, clothing, and upholstery. If you have a storage area in your attic or basement this is a place carpet beetles tend to do the most damage because the items remain untouched for longer periods of time. They are known for eating away at fibers, materials, and are mostly a nuisance pest.
Signs of Carpet Beetles
They are not a threat to humans or pets, but carpet beetles are quite frequently mistaken for bed bugs because they can be discovered in beds. They like beds and bedding because of the fabric and quite often when they get near human skin they cause irritation which may resemble a bite from a bed bug. If you wake in the morning it can be startling to notice red marks and irritation on your skin, so be sure to investigate. If you find there are no other signs of a bed bug problem such as dried blood, or feces, chances are that you may have a carpet beetle infestation. Carpet beetles also gravitate towards beds and clothing because they like to snack on dead skin!
How to Get Rid of Carpet Beetles
If you find yourself with damaged carpets, clothing, or upholstery, it can be very frustrating to think of replacing and tossing out valuable items. While small, carpet beetles can be quite a pain to get rid of. Solving a carpet beetle infestation can be a very difficult task and one that we don't want you struggling with alone. We know that finding damage in your home is disheartening and we want to help you stop the damage caused by carpet beetles. Contact us today to schedule a free home inspection from one of our trained professionals!
How Concerned Should You Be About Carpet Beetles? in Georgia
Serving Your Pest Needs for Over 35 Years Across Georgia
McDonough | Conyers | Lawrenceville | Alpharetta | Marietta | Columbus
Newnan | Locust Grove | Rome | Atlanta | Brunswick | Byron | Augusta | Savanna