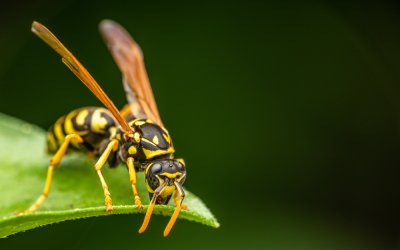 Are you planning to spend some time outside this summer? You won't be alone: wasps and bees are active in the summer in Georgia. A run-in with wasps or bees can result in annoyance, stings and even serious allergic reactions. But how can you keep stinging insects at bay without loading up on bug spray? To learn how to repel bees and wasps while you're outdoors this summer – naturally – read on!
Plants That Bees and Wasps Love
Since bees and wasps are pollinators, it's not shocking that they're attracted to plants. Here are some flowers that bees and/or wasps are especially attracted to: 

Black-eyed Susan

Honeysuckle

Lantana

Lilacs

Perennial Yarrow

Poppies

Pale Purple Coneflower

Sweet Fennel

Wisteria

Queen Anne's Lace

Sedum

Snapdragon

Sunflowers
Are any of these growing near your home? If so, consider moving them further away, if possible. Especially if they're close to a patio or other outdoor space that you use frequently.
Plants That Bees and Wasps Hate
Wasps and bees are attracted to some plants based on how they smell but repelled by other plants for the same reason. The plants that repel them include: 
Basil

Citronella

Eucalyptus

Geraniums

Marigolds

Peppermint

Spearmint

Thyme

Wormwood
To keep stinging insects away from your porch, deck or patio, consider adding some of these plants near your home's outdoor spaces.
Bees and Wasps and Food
Stinging insects, especially wasps, are also attracted to food. This can be a problem because whether it's barbecues, picnics or kids with ice cream, eating food outside is a part of summer. 
However, there are steps you can take to reduce the chance that bees or wasps will ruin an outdoor meal.

Put away food and drinks promptly after eating a meal outside. 

Keep sugary drinks closed or covered to keep wasps out.

When you put food or food-related trash in a trash can, close the lid securely.
Bees and wasps are attracted to food. However, like with plants, there are some food items that bees and wasps don't like, including: 
Bay Leaves

Cinnamon

Cloves

Cayenne Pepper

Garlic

Sliced Cucumber

Vinegar
If you keep one or more of these in close proximity while you're enjoying the outdoors, it could help keep stinging insects away. For example, you could place cinnamon sticks or a glass of vinegar on a patio table. Or bring some sliced cucumber on a plate if you're eating a meal outside.
How to Keep Bees and Wasps Away with Essential Oils
Another way to keep stinging insects away naturally is to make an essential oil-based pest repellent spray. Stinging insects dislike the smell of the essential oils below:
Citronella oil

Clove oil

Eucalyptus oil

Geranium oil

Peppermint oil

Rosemary oil
Simply combine essential oil and water at a ratio of two drops of essential oil per ounce of water to make a natural alternative to store bought insect repellent. 
Best Bee and Wasp Exterminators in Georgia
Natural pest repellents can help keep some wasps or bees away. However, they won't be enough to deal with a serious infestation. In that case, you may need to hire a local exterminator to get rid of the stinging insects on your property. Active Pest Control has been providing exterminator services in Georgia since 1985. If you're looking for eco-friendly bee, wasp and hornet removal, call us today for a free quote! 
Natural Ways to Repel Bees and Wasps in Georgia
Serving Your Pest Needs for Over 35 Years Across Georgia
McDonough | Conyers | Lawrenceville | Alpharetta | Marietta | Columbus
Newnan | Locust Grove | Rome | Atlanta | Brunswick | Byron | Augusta | Savannah