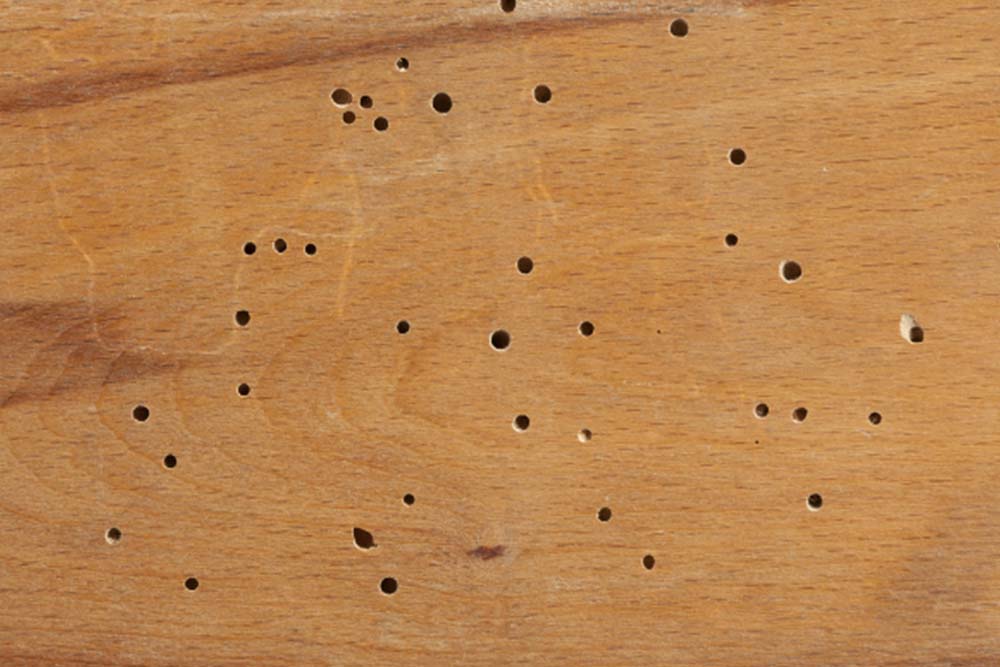 If you've found small, round holes in wood within or outside your home, you're likely wondering what could have caused them. In many cases, this is a sign of drywood termite activity. When drywood termites swarm in the spring or summer, they will make their departure from their nests. In doing so, they create and tunnel through exit holes in the wood within which they were nesting. Termite exit holes can frequently be mistaken for holes left by other wood-destroying insects, making it important to learn what termite holes look like.
What Termites Leave Holes in Wood?
Most termite species swarm to form new colonies, but only one common termite is responsible for the hole-boring activity: drywood termites. Although subterranean termites swarm, they do not leave exit holes in the wood. This is because subterranean termites build nests underground and travel through mud tubes. These mud tubes also serve the purpose of being their exit from the nest. So, seeing termite holes indicates the active or previous presence of drywood termites in your property. Drywood termites are often found in wood above ground, such as attics, garages, and trees.
How to Identify Termite Holes
How do you know if the tiny holes were left by termites or not? It typically takes a professional's expert eye to identify exit holes. However, it's important to know the following about termite holes, also known as "kick-out holes".
Termite exit holes are round and only about ⅛ of an inch (or smaller!).
Once the swarmer termites (called alates) leave the nest, the termite nymphs within the nest will use a paste made out of frass to plug the holes.
The plugging of the holes happens quickly, making it rare to see uncovered holes in the wood.
Wood that has been kicked out looks like tiny mustard seeds and can appear in a pile.
Which Insects Leave Holes in Wood?
Termite exit holes are often confused with holes made by other wood-destroying insects. Some of these insects include carpenter bees, carpenter ants, powderpost beetles, bark beetles, and more. Each of these exhibit unique behaviors and have different wood preferences, making it difficult to know which wood-boring insect you're dealing with. This is why it's always important to contact your local pest control experts for help identifying termites or holes made by other pests in your home.
Termite Exit Hole Inspections in Atlanta
At Active Pest Control, we know that seeing holes in your wooden structures can be distressing. You can rest easy knowing that our expert termite exterminators will thoroughly inspect your property to seek out termite or other wood-destroying insect activity. Contact us today for help with identifying termite exit holes in your Atlanta GA property!
What Do Termite Holes Look Like? in Georgia
Serving Your Pest Needs for Over 35 Years Across Georgia
McDonough | Conyers | Lawrenceville | Alpharetta | Marietta | Columbus
Newnan | Locust Grove | Rome | Atlanta | Brunswick | Byron | Augusta | Savanna